First Team & Team Kids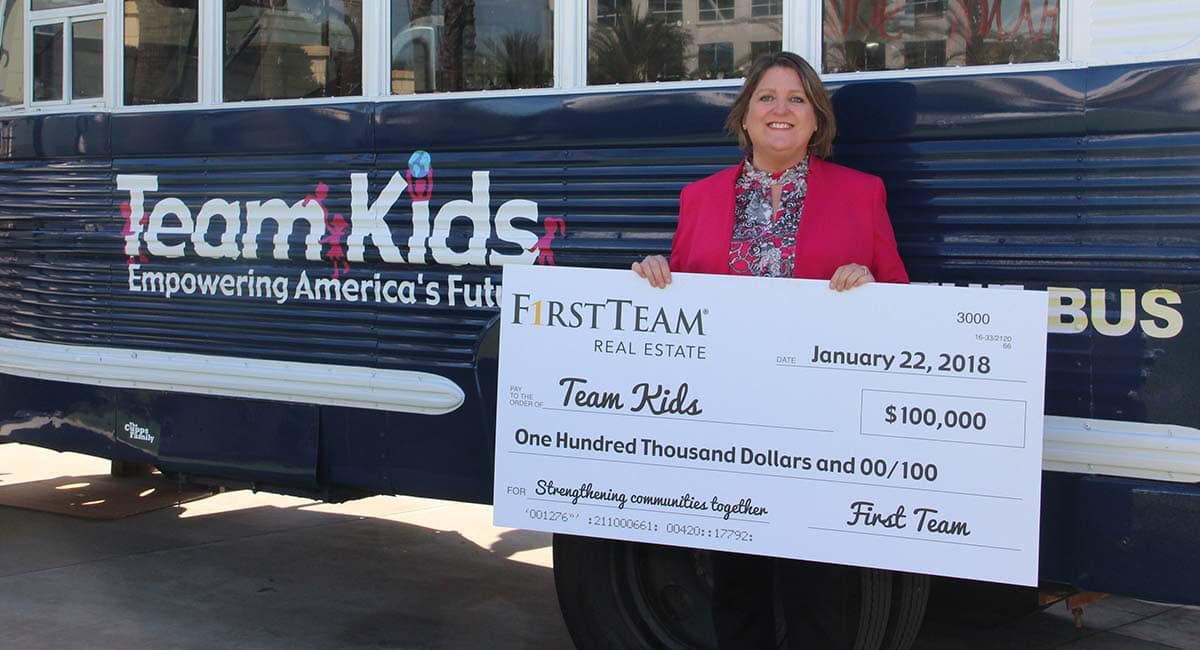 We share more than just 50% of our name with Team Kids, we share a vision for strengthening communities through service and compassion. As Team Kids Ambassadors, we're leading efforts to serve in our communities and fundraise for Team Kids.
Through our partnership with Team Kids —called the Team Kids Superhero Program—real estate agents serve as mentors to children in their communities, guiding them through various challenges that allow them to make a difference and earn recognition for it.
"Through the Superhero program, kids will be presented with challenges to complete, such as bringing blankets to an animal shelter or writing a thank you note to someone in the military," Hudash explained. "Once they complete these challenges, the real estate agents will present them with certificates thanking them for their contributions and for helping to make their own community a better place."
The Superhero Program, and our affiliation with Team Kids, is part of our organization's overarching mission to make a difference in the communities we call home.
Testimonials
" Stacy has been a blessing to our Family since day 1. I was referred to her by my friend and now we found our home all because of her help and patience. Our dream became in to reality all because of her and we couldnt be more grateful!! "
- Gian Carla Santos Rubias
" After 43 years of living in a home, selling was never considered as an option. Though when the circumstances changed it threw us into incredibly scary territory of saying goodby to a home that held so many memories and so much love. The single thing that changed everything and eased all of the fear associated with this life changing event was getting to work with Stacy McQueen. The compassion, care, considerate communication, and impressive professionalism she carries within is displayed in every step of the process. We could not have been more impressed and comforted with how delightful the entire sale was. It was such an honor to witness such a perfect mix of decent humanity and business savvy. It was clear from day one it was our family's best interest that was her top priority; from the emotional side of the sale to the financial and legal portions. There was no shortage of thorough explanations of the more complex pieces to the sale of our home. Every family member felt included and fully informed throughout. The level of apprehensions we all had getting started were immediately erased as Stacey dealt with us and this carried the entire way. We sure wish every stressful life event could be handled in the manner Mrs. McQueen handled ours. We are forever appreciative with this lovely experience as how we said goodbye to our longtime home. Thank you Stacey! "
- Shifrer Family
" Stacy is a special person and a true professional "
- Cary Warner
" Stacy showed nothing but professionalism throughout the whole process and we could not of been happier with the results. "
- Paul Ortega
" I was represented by Stacy in the sale of my property with outstanding results. From our first meeting, Stacy was professional, knowledgeable, competent and efficient. She provided resources for making the difficult task of moving bearable as well as made referrals for assistance. During the entire transaction, she was available by phone morning, noon and night and answered all questions and concerns with patience and understanding. I recommend her highly without reservation and she's worth much, much more than her contractual fee. She is a real super star. "
- Barbara A Cooper Wall
" I can't speak highly enough of Stacy McQueen as our real estate agent. Her professionalism, knowledge, honesty, integrity and hard work ethics are very much appreciated and respected. She is detail oriented, honest, good with people and has a knack for helping us through the process of selling our home. I trust Stacy McQueen 100%. I give my Highest recommendation to Stacy. 5 Stars +. Satisfaction guaranteed! "
- Denise
" I like working with someone I can trust. "
- Patricia Neos
" Stacy is very knowledgeable about the market and it's trends and made the job of selling our home a joy and she is great with details and communication between us and the buyers. We would surely recommend her to all our family and friends. "
- Mario Noah
" Stacy did a fabulous job during a difficult time and was very professional. She had to deal with a difficult Tennant and handled the situation professionally. "
- Holly Howell
" Stacy was very professional. Always accessible. No matter what came up she always very receptive. Need a great realtor call Stacy! "
- Dale A Pratt
" Stacy is an incredible negotiator knows the market well and looks out for her clients. She communicates things immediately and alway gets back to us right away within answers and paperwork. She has a caring heart and does everything with excellence. She is a joy to work with and we highly recommend her. "
- Therese Noah
" I would like to start off by saying this was our first purchase. Stacey and Stephanie really made us feel like family and friends. It was just an amazing experience from beginning to end. There was never a time of added pressure or stress. We called them to ask any questions we had any time any day. They really built a relationship with us to make this process go as smooth as possible. They are very knowledgeable and answered every question we had with explanation. I could not have asked for better realtors to be a part of our journey in looking for a home. Even the million of times of being scared and going back and forth. They were still the same warming people and understood and reassured us that we will find our home. We found our home in July of 2021 and the entire experience was smooth because of them. "
- Andrew and Monica Neuhaus-Lares
" Stacy McQueen was extremely experienced in helping us sell our home in Spring Valley Lake. She is knowledgeable of the market, quick to respond and professional. She always made sure we understood every step of the process. Stacy arranged our open house and even assisted us with finding vendors for needed repairs, since we had already moved to our new home. She also went above and beyond to check on our vacant house before the close of sale. If you are looking for a great agent to help you sell your home in the high desert, or buy one, she would be the first one to call! "
- Claudia Cortez
" Stacy McQueen represented our family in the sale of my parents' home. We had 3 offers after only 4 showings. The photographer she hired produced awesome pictures. Her chosen vendors, who provided services during the escrow process, were excellent (escrow company, septic, roof, etc. ). She showed compassion, professionalism, expertise and patience. She definitely went above and beyond to communicate with our whole family. She answered all my questions and guided us through a complicated sale involving a Trust. I would recommend her. "
- Marilyn Russell
" Stacy sold our home quickly and for above the asking price. She was no-nonsense, efficient and got it done. "
- Krysta J. Brock
" She worked very hard in this most difficult time "
- George Kassab
" Stacy was a pleasure to work with. She was always available and with her I was always prepared for what came next. No surprises. I highly recommend her services to anyone trying to navigate this bumpy probate road. "
- Ron Parson
" Wonderful to work with. Extremely helpful with recommendations on how to get my house ready to sell. "
- Steven E. Peterson
" Stacy was a wonderful agent through the whole process! The suggestions she made to prep the house turned out to be spot on! We would highly recommend her to anyone looking to buy or sell a house! "
- Robin J. Price
" Stacy keeps in constant communication, is easy to get in touch with and is honest about what each step requires with prudence guidance along the way. She's my go to agent when I need help with real estate transactions. "
- Vicki Smith
" We wanted an experienced realtor that has been in the area for sometime. We interviewed several agents and decided Stacy was willing to accommodate our needs. Her presentation and marketing suggestions were encouraging above the other agents. She was patient, quickly available and knowledgeable in her field. "
- Cindi Cockrum
" My son happen to get Stacey's information and was extremely pleased with the advice and service she provided for their first time home buying experience. I met her when my son was purchasing their home and was impressed by her. Two years later, I was in need of a real estate agent and got Stacey's information from my son. Stacey was responsive and caring from the very beginning to the end of the transaction. She wanted to set a price on my home that I thought was too high. She said it was up to me but wanted me to trust her. I did and I got $10k over asking price. I would highly recommend Stacey to anyone in need of a real estate agent that cares every step of the way and is knowledgeable in the business. Her experience shines as does her caring personality. "
- Noreen M. Lares
" Stacy was spot on in her service to us. She is very friendly with a down to earth quality. She kept us up to date with the progress of the sale, and her attention to detail and explanations of procedures and practices were concise. She offered timely suggestions and willingness to help us pack was greatly appreciated. She is an asset to her business and is to be commended for her friendly, professional style. A job well done, Thank you for all you did Stacy, James and Linda Best "
- James and Linda Best
" Stacy Mcqueen is such a hustler! Her negotiating skills were exactly what I was looking for in a realtor. She worked with my requests; She found me a buyer in 2 days, and closed the deal on time by making sure the other agent kept up every step of the way. Because I realized her multitasking skills were exceptional, I hired her again but this time to help me buy a home. She found me a new home immediately, executed all tasks, and closed the deal just 11 days after closing escrow on the home I was selling. Thanks again Stacy, God Bless you! "
- Coreen Longoria
" Stacy did a wonderful job helping us sell my house. She went above and beyond to make the pricess run smoothly. I would highly recomend her . Thank you Stacy "
- Omar
" stacy is among the elite agents on the hi-desert one of the best would recommend her to anybody that needs an agent "
- cary warner
" great knowledge and always ready to help "
- Rebecca Evans
" She is an expert in a good market and a shakey market as well as a great communicator and gets the job done. Great people skills and takes care of the details. Best realtor to work with, we would recommend her to everyone. "
- Therese Noah
" She is very professional "
- Sevada Antonyan
" My husband and I was relocating from Arizona to California and used Stacey McQueen to purchase a house. During the process we put bids on five different houses with the first three being my favorites and the other two Stacey suggested we put bids on because of the way the market was going. We had to go over on all the bids for the houses and still didn't get any of the fiest three houses . I was pretty upset because the other two houses I would have never thought I would have wanted as they both needed some kind of work. Stacey took us through the houses and made suggestions on what they could be with a little work. Long story short we ended up getting my least favorite of the five houses. However after we renovated the home I am so happy that we ended up getting this house because it feels like home and I can't imagine ourselves in any of the first three houses we did look at and wanted. I am glad Stacey was able to see the possibility of the home when I couldn't. "
- Robert and Elizabeth Linn
" Stacy is Very helpful with the entire process and knowledgeable about the market, she is kind and pleasant to communicate and deal with. "
- Mario Noah
" Working with Stacy was a great experience. She was knowledgeable in knowing when to drop the price or to keep it where it was. She lended a listening ear and was there whenever I needed her. I am very pleased to say that my experience with Stacy was a good one. I had never experienced being in the position that I was in being over my deceased mother's estate and she made it painless. I appreciate you Stacy for everything that you did. Thank you so very much! "
- Katherine Fay Clayton
" Stacey's knowledge of the market and personal integrity gives me great confidence. I trust her to act on behalf of our best interest. She has proven each time to be efficient and assertive in moving the process forward and following up immediately on issues or questions. Thank you. "
- Charmaine Earle
" Stacy went above and beyond a realtor's traditional duties to sell a house. Because I live out of state, she was my life line in getting my brothers house sold. There were some issues that needed to be addressed before we could sell the house and Stacy got them all resolved quickly. At every turn of this sale she was professional, responsive and always helpful. In today's environment of sketchy service providers, Stacy stands out with her exemplary service to her clients and I'm grateful to her. "
- Sandra Jean Minot Trustee
" I would recommend Stacy McQueen to anyone looking to buy a home. Stacy has excellent communication skills, expert negotiation techniques, and pays attention to details. "
- Miriam E Molina
Previous
Next